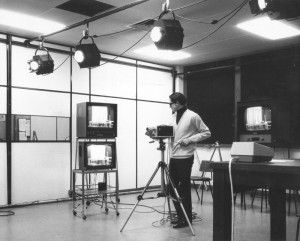 On Monday October 4th 1965 my 50 year association with Imperial College of Science and Technology (no Medicine then) began. It was my first day of working at the most amazing place I'd seen. And, all these years later and even though I've retired, my association continues with this Video Archive Blog.
If you've read or watched some of the videos in the blog then you will have seen various people talking about what the college was like 'back then'. One quote that Rogers Knight made when we interviewed him in 2006 was that it was 'a different place back then…'. Although he was referring to pre-war days I can concur with those feelings myself from when I joined Imperial in the 1960's. Boy, how the place has changed since then. Just look at some of the videos in the blog and you'll see what I mean. I recall the final fragment of the old Imperial Institute being demolished and Sherfield Building (then called College Block) being built. Before then, the walkway simply stopped at Electrical Engineering.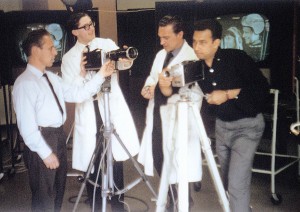 I don't have any photos from 1965. But one photo which was taken, simply for fun, was in August 1967 with three colleagues, including Eddie Bristow on the far left. These were the very early days of using video at Imperial and in this case was exclusively in Electrical Engineering which used it for teaching, training and demonstrations. Looking through this blog will give you a better idea of how it's been used in the years since then. But at the start it was not as easy as it is today. Videotape was the only recording method and even that was, at times, very difficult.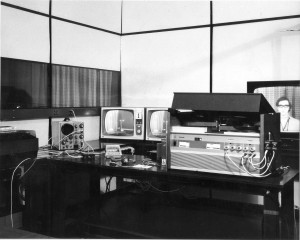 In the black and white photo you'll see our pride and joy, a Philips EL3400 one inch videotape machine which was FULL of valves and got extremely hot. Could you imagine anything running with valves these days? The image you can just see on the screen really is off of the videotape, the quality of which was none too bad. When you consider that videotape was only in service in the USA around ten years prior to when this photo was taken, great developments had taken place to achieve what was possible with this Philips recorder. Soon after, we replaced the recorder with an Ampex (one inch Ampex tape seen on the right),
made by the company that produced the first videotape recorder in the USA about ten or so years earlier. We stayed with this format until 1979 when we eventually switched into colour, using the Sony U-matic cassette format. If you read my two blogs on the MANY problems trying to now access these archive videotapes you'll appreciate the saying "I wished we'd realised back then…".
And finally, as this is a somewhat self-indulgent blog, here's something almost 50 years old, but in fact it's only 45 years ago. In early June 1970 I made a demonstration video for an Electrical Engineering student who had made a very basic video effects unit for the TV Studio. It was a crude demonstration because of the way the studio cameras were then able to run, but it made the point I think. This is just about the oldest video I have and I was just 19 years old, how times change! A former Imperial colleague of mine, Steve Bell, points out that there are not many people who can say they have a video of themselves that's 45 years old.
Colin Grimshaw October 2015