Back in October 2010 I brought to you an extract from a unique 16mm colour film that was residing in the college archives since 1973.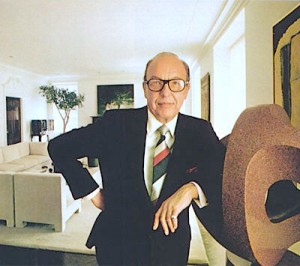 Robert W Sarnoff was President & Chief Executive of RCA (Radio Corporation of America). He was the eldest son of broadcasting mogul Brig. Gen. David Sarnoff, he followed in his father's professional footsteps throughout his career at NBC and RCA. On October 25th 1973 he received the Fellowship of Imperial College at Commemoration Day. The citation for Sarnoff indicates that he was the benefactor of the Imperial College Haldane Music Library. News of this Commemoration Day Fellowship was reported in the Milwaukee Journal in November 1973 and the Nashua Telegraph in December of the same year, so this must have been important. Also here's a report in Felix the student newspaper.
Sarnoff paid for large parts of the 1973 ceremony to be filmed in colour and or course with sound. Lord Flowers (1924-2010) was Rector at the time and speaking at the ceremony was David Sinclair – Student Orator; Professor Gerald Whitrow (1912-2000) – Staff Orator and the Chairman of the Governing Body – Lord Sherfield (1904-1996). Eric Brown is seen conducting the Choir. This is the earliest moving picture record the college has of one of its ceremonies and it's thanks to Robert Sarnoff that this happened. One of the greatest achievements by RCA and Sarnoff in particular was the development and introduction of colour TV in the USA. At the dedication ceremony of NBC's new Washington, D.C. facility on May 22, 1958, Sarnoff introduced President Eisenhower who became the first President to then appear on Colour TV. For those interested, you can see an amazing videotape that has been rediscovered of this event. The tape represents the earliest known colour television recording discovered to date.
Here then is the full 16mm colour film of Commemoration Day, being shown for the first time after its transfer into digital form.
Colin Grimshaw October 2015