Recently, whilst rearranging the shelves of archive videos I came across something I'd forgotten about. In 2002, Imperial had honoured Senior Minister of Singapore Lee Kuan Yew (in recognition of his promotion of international trade and industry, and development of science and engineering study initiatives with the UK) by appointing him a Fellow of the College at the Commemoration Day held at the Royal Albert Hall.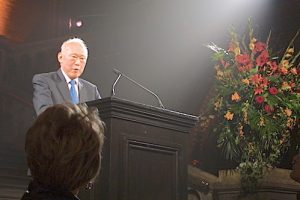 Because this was a significant event, college had hired a company that occasionally provided a large video screen and cameras to help people see events in the Royal Albert Hall. We attended the event to get some background video shots and to also see what effect this new idea had on the ceremony. The previous night we had attended the first ever Commemoration Eve Dinner held at the Natural History Museum, where he gave the keynote address (seen left), we recorded and used that in full. College did not need his Commemoration Day speech recorded because we had the one from the previous day.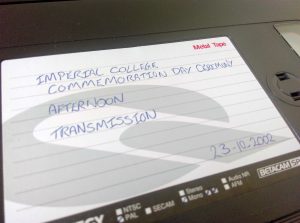 However, as this was the first time that cameras had been covering a Commemoration Day, I felt that this was unique enough to ask the company to make video recordings (right) of both morning and afternoon sessions. College had already indicated that they had no use for any of the footage, but, by being a 'first' I disagreed. So, both morning and afternoon events were recorded and promptly put into our archive collection and there they have sat for all of these 16 years.
Let's see the first ever fully recorded Commemoration Day sessions from 23 October 2002 which are now available on line for the first time.
Colin Grimshaw May 2018