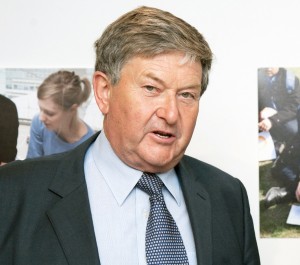 This is the first in a series of interviews with leading academics from Imperial College London. The aim, is to gain an insight into the person and also the work that they are carrying out at the college. Our first interview is with Professor David Phillips who came to the Department of Chemistry at Imperial in 1989 from the Royal Institution. There, he was deputy to the Director, Lord George Porter; who prior to David, had also come to work at the college in 1987. At Imperial David held the Hoffmann Chair and his work studied the fluorescence in biological systems. He later became the head of the Department of Chemistry (1992-2002).
David is well known for his lively and entertaining lectures, normally ending with very loud bangs and flashes. You can see Chemical Christmas Crackers, one example,  or a even Little Light Relief, both on our YouTube channel. In 1987 David jointly presented that years Royal Institution Christmas Lectures, entitled Crystals and Lasers.
For this interview, Professor Lord Robert Winston talks to Professor David Phillips about his life and work.
Colin Grimshaw December 2014