Today we have yet another untold story from Imperial's past with an idea that started at the college and ended up on worldwide TV. Way back in 1975 Mark Caldwell, then Chairman of STOIC started an ambitious series of interviews with both film stars and TV celebrities. The first included American film director and actor Mel Brooks, British actor Malcolm McDowell and Australia's very own Dame Edna Everage, otherwise known as Barry Humphries. The series ended up being called Film Talk. Coinciding with this were the services provided by the ULAVC, over the ILEA Channel 7 cable TV network – which I have covered previously.
I was the TV contact at Imperial and knew both the staff at the ULAVC centre in Bedford Square and the ILEA TV Centre in Battersea. Somehow or another I mentioned the idea of them showing some of these programmes over their network. The idea was accepted, so future recordings were made with both local viewing and remote viewing via ILEA in mind. We had progressed so well that a contact at Imperial College introduced us to yet another new idea. In Mechanical Engineering there was a computer-aided design system called CADMAC. It used a mini computer, storage-tube system and plotter as its basis for the generation of 'animation'. For normal film animation at the time, cells made of plastic film were drawn on and filmed frame-by-frame by a normal film camera. The concept was to use the computer output to produce either cells or to output onto paper. These would then be captured onto film as usual. The difference here was the computing. Things could be manipulated on the screen by using a lightpen and objects merged and moved around. This could (at that time) not be run in full-motion playback, so it was therefore outputted onto film or paper.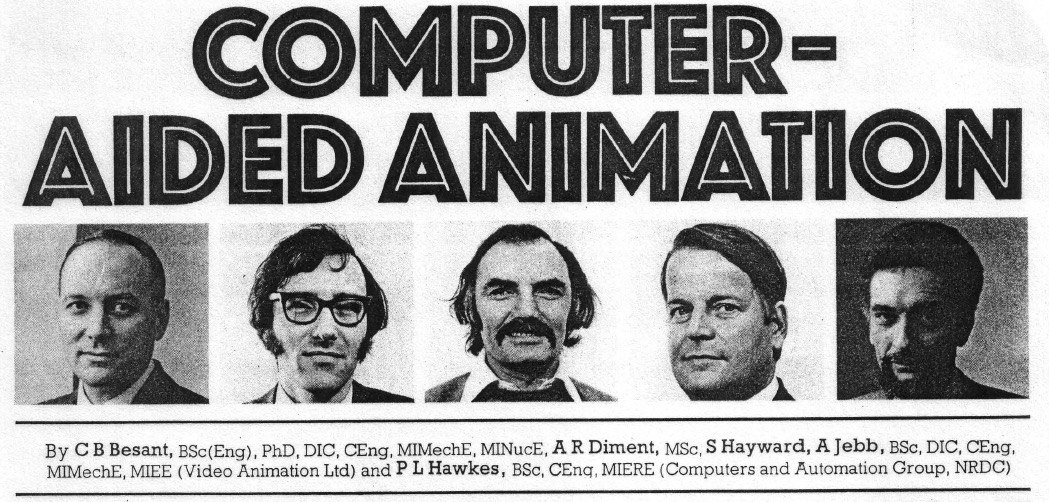 A company was formed called Video Animation (later called Electronic Arts) and they were looking for ideas to showcase the possibilities of this new technology. We met them and they offered to make a short animation based on three photos that we would provide. These were inputted to their system by using a light-pen system to trace the image. It was then animated to produce an end result.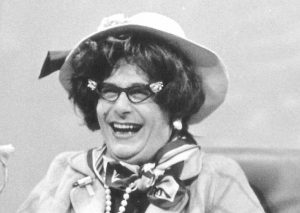 So, the images were Mel Brooks, Malcolm McDowell and Barry Humphries as Dame Edna. The end result is not perfect. They could not, for some reason, cope with Dame Edna's glasses or hat, and these are missing from the animation (see actual photo on left). It's a very heavy contrast line drawing with no grey scale, but for us it was at least unique. They also created and added the title. The final product was given to us on 16mm film, the sound was added later.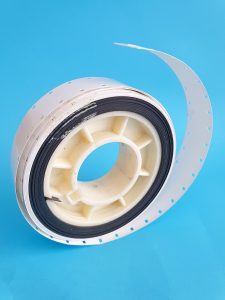 The film (seen on the right) was then played into any of the programmes via tele-cine. If we happened to be recording at the ILEA Battersea Studios, they had a tele-cine unit within the control room. For anyone who remembers the opening sequence to the worldwide TV series "The New Avengers" it was Video Animation who produced the opening title animation. It's no coincidence that the Avengers TV series started the very next year in 1976. So, the experiment for Film Talk could well have been used to persuade the TV company to use animation in the opening titles. Our animation has some very close similarities to that of the New Avengers opening titles. See the bottom video for the Avengers animation sequence.
Colin Grimshaw 1 January 2021