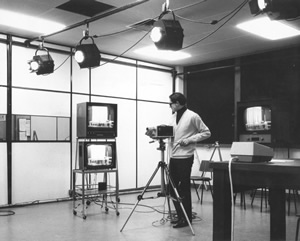 Recently digitised from the video archive collection is the very first news-magazine programme made by the student TV service, STOIC. 50 years ago on the 17th February 1970 an experimental programme was made to ascertain the feasibility of producing such a news programme on a weekly (or at least a regular) basis. At this time, STOIC used the TV studio facilities of the Electrical Engineering Department, as seen over in the right hand photo and with me operating a camera.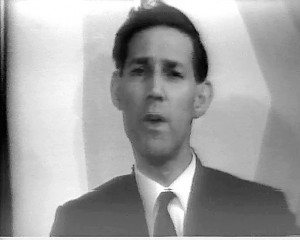 The original plan was to produce a light hearted and simple programme, reflecting what was currently happening in and around college. However, at 10am on the morning of the recording on Tuesday 17th February, the Pro-Rector Lord Jackson (1904-1970), who was also Professor of Electrical Engineering, died. Plans were immediately changed and his colleague, the Head of the Electrical Engineering Department Prof John Brown (seen on the left in the video) appeared to pay tribute. This itself is a unique recording, having been made within hours of Jackson's death.
Although this was only a trial programme, some effort had been put into trying to make it look as professional as possible. A filmed report (on 8mm film) was shot at a Touchstone weekend being held at Silwood Park. Piers Corbyn, the controversial students union president (1969-1970), appeared in an interview. Another filmed report was on the first major event to be held in the then newly opened College Block (now renamed Sherfield Building). The programme was presented and linked together by Vivienne Taylor who went on to present a local TV programme on London's Thames Television.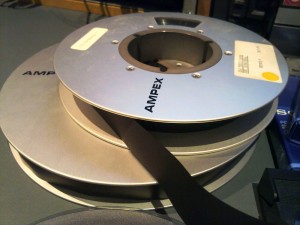 The programme was shown the following day (18th February) in the then new Junior Common Room in College Block. A copy of the original flyer can be seen below. It's amazing the recording has survived all these years. The original one-inch Ampex videotape still exists, but only because I had given STOIC the videotape to record on, with the very intention of it being kept for posterity and 45 years later, I'm glad I did! If I hadn't, then like many BBC videotapes, it would have been erased and used again for another programme.

Colin Grimshaw February 2021