This post is a real example of something I thought, like many videos, was lost for ever. Just for fun, back in 1970 I shot some black and white 8mm film of the fledgling TV Studio. We had the ability to add an incredibly small magnetic stripe to the edge of the film allowing us to create a sound track. It's all rather amateur because I had to record the track in 'real time' and put it directly onto the sound stripe, hopefully in sync with what was happening, as far as the pictures were concerned that is.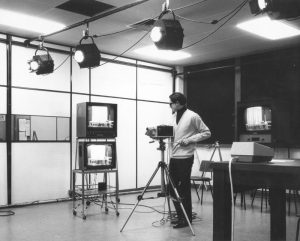 The film gives a behind the scenes view of what we had then created in the studio. We had little or nothing to work with and the original cameras were basic to say the least, but we managed. That's me in the picture on the right with one of those cameras. You'll see the array of old monitors and the Ampex video recorder too. Nothing really exists from that period except the rare recording with former Rector Lord Penney. I did however shoot some film from the TV screens and although there's a strong flicker it does at least record what was going on.
The film captures the changes into something that was to become more like a TV Studio. I had the film, but had never bothered to try to get it on video. When the studio closed in Feb 2007 most of the equipment was put into a skip, but I made sure I kept the Eumig 8mm sound projector as this would be the only way to play back the sound track. This actual projector was used to record the track in 1970. I never thought I'd be able to rig it all back up and get the sound track off, but I did. A little bit of modern post production has improved the sound a little. So, here for the first time in 46 years is that film which captures another small part of the Imperial College history.
Colin Grimshaw November 2016