In recent months, whilst the blog has been on hold, I gather there has been great interest in the late Professor Eric Laithwaite's research work. To see all the videos available that feature him, you may wish to go to the Imperial College YouTube Archive Playlist.
Some while ago I came across footage of the experimental tracked hover train that was built at Erith in the UK. He had expanded his original designs of the Linear Motor, with support from a government grant of £5 million. The result was a prototype for the world's first magnetically levitating train. The 'Tracked Hovertrain', as the prototype was called, was a high-speed, wheel-less vehicle which was propelled by the force of a magnetic field. Early trials of Laithwaite's model looked promising with the prototype reaching speeds of up to 100mph, yet in 1973 the government cancelled the project, blaming high costs for little return.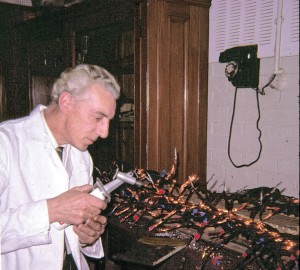 I know very little about the project, but after the Government brought it to a halt there were bitter exchanges between Eric Laithwaite and Government Ministers. Around 1974 Eric Laithwaite asked me to make a recording (in audio)  -in his own words- of what really happened; who said what and why. In front of me, that audio tape was put into an envelope, sealed and signed and was then to be held in his bank until his death. That tape DID surface again after his death, I personally unsealed it and transferred the contents into digital form! I did not keep a copy of this tape or digital transfer.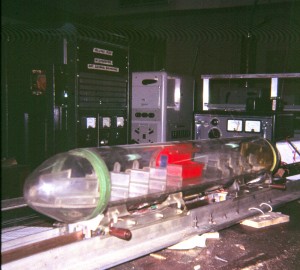 Imperial College does not hold any RTV31 footage or photos related to that project. However the footage I did come across is held by the ITN Source Library in the UK. It's really only available to buy but people can see a preview of the footage, which is good enough to see what the vehicle looked liked and how it operated. The video is located on the ITN website and can be seen via the link below.  I have also given the ITN information related to the clip at the bottom.
The two colour photos on this page were taken by me in December 1966 and are seen here for the first time. In was later in this month that Eric Laithwaite presented  the first televised Royal Institution Christmas Lectures, so the Linear Motor being made and the model train too, could have been for that event.
I was about to make this new entry live when, by chance, I came across this video on Youtube. It seems that the RTV31 shell still exists, although it's painted very differently to the original footage you'll see from ITN. It's housed at Railworld, Oundle Road, Peterborough, PE2 9NR. The Youtube video is in French but it has Youtube ANNOTATIONS added in English. So ensure the Annotation options in the player window is set to ON (it should be a RED square when the video runs).
Test run of Hovertrain TX 7.2.1973 ENGLAND: Huntingdonshire: Erith: Demonstration of experimental hover train along concrete rail at speed. Michael McNair Wilson MP (Conservative: Walthamstow East) interview with Keith Hatfield (Reporter) about applications of technology for fast surface travel. Table-top model being demonstrated by Professor Eric Laithwaite (Imperial College). Hovertrain on track.
 See also: Engineering the Hovertrain
Colin Grimshaw November 2012