The oldest videotape recording of one of our rectors of Imperial College is that of Lord Penney (1909-1991). Rector of the college from 1967 to 1973 he took the post over from Sir Owen Saunders who was acting rector from 1966 to 1967 after the death of Sir Patrick Linstead in 1966. Recorded in 1971 for showing to students via the fledgling Student Television of Imperial College (STOIC). I can't remember whether or not this was part of one of the trial news programmes called IC Newsreel, or perhaps designed as as stand-alone programme, I think maybe the latter is more likely.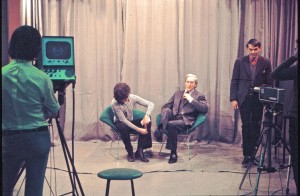 Our studio, if you could have called it that, was rather basic and sparse.  As you'll see in the video we had no background of any type at that time. The rare colour photo shows a slight improvement in 1974 when we managed to get some grey curtains! As this was well before the advent of the 'tie-clip' microphone, we used what were called neck-mics. A microphone on a thin cord that went around the neck and were very common at that time for PA system use. They did however provided much better sound than trying to use mics on stands or similar.
A former student of Imperial College, Lord Penney initially worked on the Manhattan Project during WW2 and was a flight observer of the dropping of the bomb on Nagasaki. Penney was asked in 1947 to head the team that ultimately produced Britain's first nuclear test and in 1957 this was successfully carried out off of the Australian coast.  He touches very briefly upon this during the interview, even though he was reluctant to discuss it in any great detail (he doesn't actually mention the British nuclear test). You can watch the TV programme Equinox which includes an interview with Lady Penney. The interviewer for our video was Dave Willis, who I know very little about, other than he was a computer science postgrad student, but I don't recall the years that he was at Imperial.
This is a newly restored version of the video that was shot originally on Ampex one-inch tape format. I've managed to clean, and brighten up, the image to a certain degree, but it is 42 years old. The original master tape now resides in the Imperial College Archives. On the link to the film of Operation Hurricane you'll see Penney (on board a boat)  turning around and using Binoculars to see the resulting explosion.
Colin Grimshaw September 2013