The background to this weather forecast, and images, is something you may recall if you were around Imperial at the time. What I mean by this is, do you remember the Level 2 area of the Sherfield Building by the lifts in the early 1980's? If you do then you might remember seeing the TV monitor that I oversaw the installation of. To the left of the two passenger lifts you would have seen a 15 inch monitor showing weather satellite images. These were a live feed from Atmospheric Physics where they were processing and animating, in false colour, the received data from MeteoSat using the Interactive Planetary Image Processing System (IPIPS).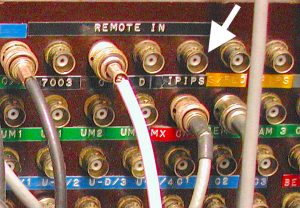 A cable was run from Physics to both the Level 2 area of Sherfield and also straight down the walkway to the TV Studio. That meant that I could access the IPIPS feed from our patch panel. And, if you look at this photo (right) from 2007 you can still see the socket marked IPIPS. It was this feed that STOIC used in 1983 to provide their daily weather forecast. It was this processed end-result that Francis Wilson used for his BBC Breakfast weather forecast. You can see more of him using this feed when he did the weather from the Queen's Tower in 1988.
This IPIPS feed used for STOIC's weather has been recovered during the digitisation of the STOIC videotape archives.
Colin Grimshaw December 2019