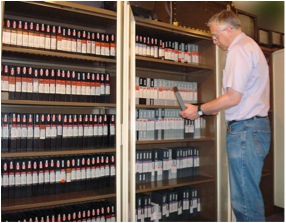 To celebrate the 10th anniversary year of my Video Archive Blog, I am bringing you a recent 40 year old videotape re-discovery.
1979 was interesting for both STOIC and the TV Studio. It was when we started our move into colour and also the move from Ampex open spool tape, to Sony U-Matic cassette. Because of that move, a large number of early Ampex tapes were never copied onto cassette (some actual tapes we still have).  I can still playback these Sony cassettes, use and transfer them into digital. However, it was sheer luck that during recent transfers I found today's video on what was called a 'dump' tape.
Back on 15th March 1979 STOIC were broadcasting their evening version of Lunchbreak, the news programme usually made for showing at 1pm and then repeated at 6pm. This particular programme was not recorded but was live. That's because it was the day of the UGM (Union General Meeting) where the new sabbatical officers and president for the student union were elected. The evening 'election special' programme was therefore a round-up of what happened and who was elected. The newly elected president for 1979-1980 was Chris Fox.
This particular interview was deemed to be important enough, that sometime around 1980 it was copied onto a Sony U-Matic cassette. Important it has now turned out to be, because:  former 3rd year chemistry student, former president of the Royal College of Science Union (RCS) and President of ICU, Chris Fox, is now Baron Fox of Leominster. Chris joined the House of Lords in 2014. He is currently (2019) the Liberal Democrat Lords Spokesperson (Business, Energy and Industrial Strategy). You can read about Lord Fox on the UK Parliament web page.
It's great to have a former student move to such heights and also the fact that we have him recorded while he was still a student at Imperial College. All of this goes to show the importance of videotape archives, the maintaining of them and allowing people to be able to see them. I've enjoyed doing all of this for the first ten years…
Happy Birthday 2009-2019.

Colin Grimshaw 8th December 2019 (10th Anniversary Day)