In December 2010 former student Sir Brian May revisited Imperial College London as part of a BBC documentary programme retracing the early life of members of the group Queen. The documentary was called 'Queen – Days of Our Lives' and was aired on BBC2 in May 2011. Brian May was Knighted in the New Years Honours list for 2023.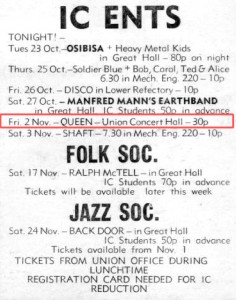 There does not appear to be much in the college about his time as a student, but I did find an interesting early reference to his involvement with Queen in the Felix archive. See the top of page 6 for a review of their album "Queen II" and note the reference: "…it is very unlikely that they'll ever need to have connections with their previous vocations again."
In the same article it referred to Queen's Imperial concert in the previous term and I have found the advert for that event. I think 30p was reasonable admission to see what would become a World famous group!!!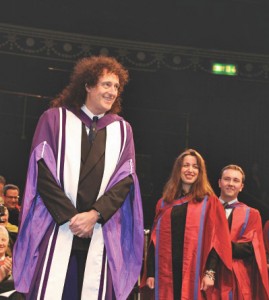 But, in 2007 he became Dr Brian May after completing his PhD which had been left on hold since leaving Imperial to join Queen full time. Very appropriately in May 2008 he walked across the stage of the Royal Albert Hall as part of the college's Postgraduate Awards Ceremony. A bow to the audience earned him a huge cheer.
During a short break in the BBC schedule he spoke about his time as a student at Imperial College in the early 1970's. He's seen here in Beit Quad, outside the Student Union Building on Prince Consort Road, two years ago today on 9 December 2010. And it was cold there at the time, but great to have met him.
Colin Grimshaw December 2012 (revised December 2022)