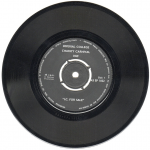 Only recently I remembered that I had a copy of an old 45rpm disc. It was called IC for sale Vol 2. It was given to me by Richard Woodhead (one of our students, who died in 2021) around about 1972 so that's over 40 years ago now. What I had forgotten was that it contained some unique sounds of Imperial College. It has great recordings of the three college unions C&G, RSM and RCS chants plus the Imperial chant Hey Vivo which I can't recall the last time I heard it. The 45rpm disc -or any tape recording of it- do not exist in the main Imperial College Archive, so I'll be putting a CD of it in there soon. I have found a review and reference to the original first pressing of the disc in the searchable newspaper PDF archive of FELIX May 1965. See page two at the top called 'Gateway to Industry'.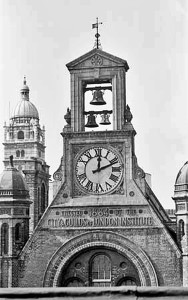 Also, if you know Imperial from far enough back you will remember the City and Guilds building clock and bells (photo on the left). Or if not, you will know that the clock mechanism relocated to the Mechanical Engineering Building foyer (photo at bottom) some time after the original buildings were starting to be pulled down in the late 1950's.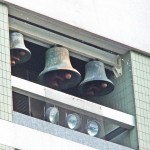 The bells were moved (photo on the right) way up on top of the building overlooking, what was, the green Dalby Court area. This is now where the Faculty Building is located. The bells would ring the quarters, half and so on and could be heard throughout most of the college area. I gather that regular mechanical & electrical  problems caused the demise of the chimes! But, these can once again be heard on the disc.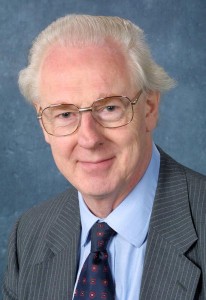 At the end of the disc on side two is Sinclair Goodlad well known at Imperial College for his 'Speaking Technically' courses. I think it's best for me to quote directly from the disc itself to explain what you will hear. "Finally, a depthly epitaph to I.C. by Sinclair Goodlad of the Wireless Dept, aided by two W.C. echo chambers and the Mech Eng bell-ringers. Recorded 'in situ' at a late hour in Mooney's, one can even hear the celebrated 'Mooney Meatball' beating time…" But the important thing are the bells, not heard for such a long time, they are at least captured here in all their glory! I hope you enjoy these flashbacks to Imperial past and what an archive joy it is that this record was made in the first place.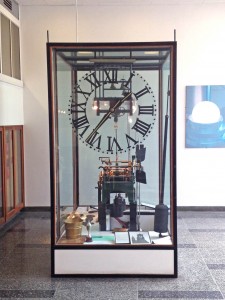 I hope you enjoyed listening to this recording, which I appreciate was a slight diversion from 'video', but worth making available here. It's interesting the number of references there are to Victor Mooney, the then college catering manager who was featured in a previous post. If you have anything like this record in your collection at home, especially if it captures the sounds of Imperial past, then please do get in touch. If you appeared on the disc we'd also love to hear from you.
Colin Grimshaw December 2012