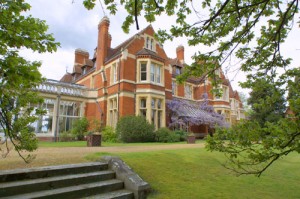 In 1982 we made a video that was a co-production between the TV Studio and STOIC (Student Television Of Imperial College). The students had been keen to make a video about the life and workings of Silwood Park, the college's field station near Ascot in Berkshire. Their resources were limited to allow this and it would have meant that the video would have been made in black and white. So, I offered to work with them to make something better and in colour. I'm glad we went down this route because now we have a unique record of life there in the early 1980's. We'll come onto talking about the video later on.
Silwood's history is quite long and to help me out, here's a snippet from the college's page on "Silwood Park – Past and Present"….
"Imperial College acquired Silwood Park and Ashurst in 1947, as a Field Station to provide a site for research and teaching in those aspects of Biology not well suited for the main London campus. The Manor House is the original Silwood Park house, built in 1878, designed by Alfred Waterhouse, who also designed the Natural History Museum in London, South Kensington and Strangeway Prison.  Silwood was requisitioned as a military hospital and convalescent home during WWII, so when the College took it over in 1947 it was surrounded by bleak, but useful, single-storey wards and offices.  Some still survive; the present Refectory, Stores and Field Course laboratories are gems of the period. Presumably no-one in 1940 anticipated a working life of over sixty years for these 'temporary' edifices."
To read the full story on Silwood Park's 75 years click here.
The estate is some 250 acres in size. To help give you an overview of this, I've found some of the aerial shots of the campus taken in 2008. My colleague Martin Sayers went, with a camera crew, on a morning's shoot around all of the college's campuses. The pictures were actually shot in high definition using a gyro-stabilised camera, mounted in a twin-engine squirrel helicopter.  The helicopter was flown from Redhill Aerodrome.
I recently discovered a batch of old 8mm cine films shot for various TV programmes made by STOIC. Back in the early days, we, and STOIC alike, had no means to shoot video outside of the TV Studio – other than using very long cables. To be able to show things outside, STOIC resorted to using 8mm movie film. This was cut and run into a programme with a sound commentary added live at the time. As time progressed, a small magnetic sound stripe was added to the film and this allowed a commentary to be synched directly to the film well in advance of the programme being recorded on videotape.
What I found was some film, shot in 1970 (click red icon above). This was from the very first STOIC news programme called "IC Newsreel" recorded on 17 February 1970 (shown the following day in the Junior Common Room).  The item is about a Touchstone weekend that was held at Silwood Park. These came out of an idea by former Rector Roderic Hill and started in around March 1950. The weekends were run with the idea where  "…students could discuss a range of topics (many of current interest) together with experts…"
If you can identify anyone in the film please let me know via the comments option at the bottom of this page. Ken McDowall (1909-1997) was appointed to run General Studies in 1952 and also to take over the Touchstone weekends and you can see him in the film, appearing to be providing some alcoholic relief to some of the students! There is an archive edition of Felix on Ken McDowall, see page 4.
You may have also spotted Silwood Park being used in the video "Translations: Engineering Design 2020AD" which is featured in the blog on Professor Bob Spence. We used the grounds and main house for most of the video. The sequence showing the dinner party was shot in the main entrance hall.
And so now on to that Silwood Park documentary we made in 1982. For those who know Silwood Park and the people who were there at the time this will, I hope, bring back some happy memories. You'll see Professor Michael Way, then Director of Silwood, talking about the field station and what it does. Also featured are many people involved in research including Professor (then Dr) Graham Matthews who at the time was running the overseas spraying machinery centre. Dr Matthews demonstrates the electrostatic spraying 'bozzel' technique developed with ICI and when he operates it you'll hear a click on the audio from the static charge.
A sequence, shot out in the fields, shows the work being carried out on the 'black bean aphid'.  At the Reactor Centre (above, right), Dr McMahan discusses the work and role of the University of London centre and we get a unique look inside the reactor whilst it's operating. Professor (then Dr) Bob Sinden discusses his research work on Malaria. This interview is interesting because it was shot at Ashurst Lodge, sold six years later in 1988. The whole video is a snapshot of life and work at Silwood Park in the early 1980's. The presenter and interview is Tracy Dudley (nee Poole) who was an active member and presenter with STOIC for many years. You will see more of her in other videos I'll be featuring from STOIC's archive that we now house.
Colin Grimshaw February 2010