Since the start of this archive blog people have asked me various things about the videotape collection. Questions range from: when did the collection start; how many tapes are there; and what formats of tape do you have. So, I thought that just for once I'd write an entry without an actual video in it. Some questions I've been asked are answered in the "about this video archive blog', but I'll go through them again anyway.
The earliest videotape (one inch 'A' format) dates from about June 1970 and is on our original videotape format made by the American company Ampex. This company invented the world's first commercial videotape format back in the mid 1950's (2 inch Quadruplex). So, our oldest tape was made only 15 years after the invention of videorecording itself. Sadly, playing these tapes back is slowly becoming a problem. Equipment is no longer accessible on campus to run some of the formats we have, but it is possible to use commercial facilities (at a cost). Recently, the earliest collection from the student TV service (STOIC) came under our access.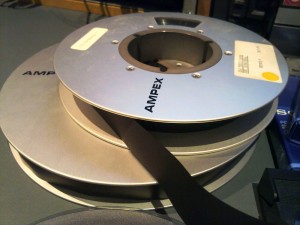 I'd forgotten just how many of the original one inch videotapes they still had. There are gems yet to be seen, dating from the early 1970's through to about 1980, in fact their collection now has more one inch tapes than we do (many of ours are long gone). Anything of importance was transferred to another (the latest at the time) videotape format, but some items (mainly STOIC's) remain, frozen in time, awaiting that day of playback once more when finances allows us to transfer them to a new format of tape.
Playing these early tapes back has recently become a problem anyway. There is an effect called Sticky Shed Syndrome which means that the binder, which sticks the oxide onto the plastic tape, is breaking down. What appears to be happening is that the binder is taking in moisture and going sticky. It's SO sticky in fact that when tapes are run, the oxide and binder come off the plastic tape and stick to all parts of the videorecorder that the tapes run past. After only a few moments of playback there will be a very loud screeching noise followed by the video head clogging and the machine grinding to a halt. If you put your finger onto the guides inside the machine it will be sticky and covered in tape oxide and a sticky goo.
In the recent blog entry called "seen and gone" I found some old audio recordings of the soundtracks of erased videotapes. These audio tapes also suffered the same problem of shedding oxide. When I started to play them the oxide came off the plastic, as you can seen in the photo. My fingers can be seen through the plastic tape. The one good thing was that whilst running the tapes through the recorder I was also copying it onto computer to then go onto disc.
These playback problems have happened because some tape manufacturers got various chemical mixing formulas wrong. It was only in the mid 90's or so that the problem was fully appreciated. There is only one way around the problems of playback. The tapes, audio and video, have to be baked. That is, the tapes have to be heat treated at something like ±50 oC for a few hours or more. This draws the moisture out, allowing immediate playback to get the material onto another modern format. The temperature used is critical, too high and the 'Curie point' can be reached and the tapes automatically erased, or at least the magnetic properties will be lost and thus the recording data will be gone for ever. So there are problems and dangers anyway with this method of recovery!
We are therefore faced with a slight problem of playback, even with tapes still in use today like the U-matic system. Most of the tapes seen on the shelves in the top photo are of this format and many are causing playback problems. I'll be experimenting with heat treatment soon to sample a few tapes for transfer. In most cases I'll put these onto DVD, assuming they'll play back okay after treatment. Today, we have many tapes formats as can be seen in this last photo. We've gone through: One inch open spool both low and high band; U-matic low and high band; Betacam and now DVCam. Also we've encountered half inch open spool, Philips cassette, VHS and so on. With some 700 tapes now being held in the collection, the question is how long will we be able to play back any of the many formats of videotapes that we have?
Colin Grimshaw September 2010