On the 19th October 1988 the beginning of the mergers with the medical schools started. This was the merger between Imperial College of Science and Technology and St Mary's Hospital Medical School, located just north of Kensington Gardens and Hyde Park at Paddington. The end result of the mergers was the formation of the Faculty of Medicine.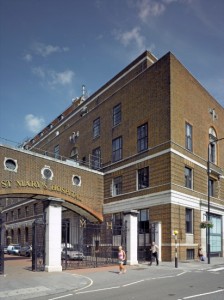 To my knowledge this is only the second time that the college's Great Hall has played host to a royal event. The first of these was the opening of the building (then called College Block and subsequently Sherfield Building) and the hall itself by HM the Queen in 1969. The hall was packed as you would imagine and that didn't leave all that much room for the two cameras and tripods we had proposed for the live recording. We were also limited in terms of man-power so my colleague Chris Roberts operated the main camera whilst I located the second camera next to where I had the vision mixer and recorders. This meant that I could not only cut between the cameras, but also operate the second camera to change the shots slightly. What I could not cope with was the fact than when people stood up, they almost blocked the shots from the camera next to me.
The ceremony starts with the fanfare "St Mary's". There are then several musical interludes during which you'll see a very young Richard Dickins and these 22 years later I must apologise to Richard because we got the spelling of his name wrong on our end credits. But, it's a wonderful record of music from the college symphony orchestra playing Walton's 'Crown Imperial'. Also the late Eric Brown conducts the college choir with music from Carmina Burana.  And finally in terms of music you'll hear the electronic organ that's located within the hall. Princess Anne, (The Princess Royal) as Chancellor of the University of London presented the Chairman of the Governing Body (Sir Henry Fisher) with a specially bound copy of the Imperial College Act and its revised Charter. The Imperial College Rector at the time was Professor (later Sir) Eric Ash.
As always, I've had to tweak the image on the video to make it look at bit better. Technology has advanced a lot since this was recorded and the lighting levels required to get good images is a lot lower these days. The Great Hall have never been fantastic for shooting video unless extra light is thrown at the stage area and that then leaves the audience rather dark, whilst the wood panels around the hall make a very warm image when light bounces off it. The whole video is around 45 minutes in duration.
Colin Grimshaw September 2010