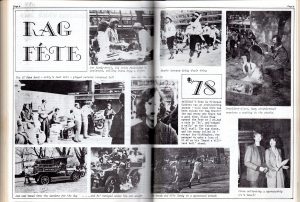 In the 1970's it seemed to be the 'in thing' to get celebrities to open the Union Rag Fete each year. In 1978 it was Diana Rigg (1938-2020) (Dame Diana) who was asked to perform the duty of opening the event. As usual it was held in Princess Gardens and the day was Saturday 6 May. Sadly in the FELIX archive there are no editions recorded (assumed lost) for the years 1977 and 1978. This makes it a little difficult to get any further background details about the fete and how much was raised on the day.
Luckily though, STOIC were there to record the event and were able to get an interview with Diana Rigg. Judging by the 'shuttered concrete' background, this was clearly shot somewhere in Southside. Once again this video was rescued during the digitisation of the STOIC video archive and was originally shot on the Sony "Rover" recorder and mastered on the old Ampex One Inch videotape format. And, because the editions of FELIX for that period, now appear lost, this is the only record of that day.
UPDATE: Thanks to Martin Watson for the Felix centre page spread scan, seen at the top. Martin has some of the missing copies in his personal 'bound' collection of issues. Click the image to make full screen.
Colin Grimshaw December 2019 (updated May 2021)