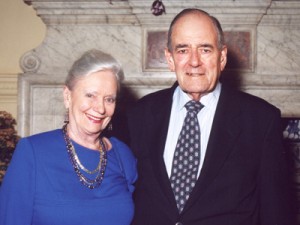 Brian Flowers (1924-2010) became Rector in succession to Lord Penney in 1973. Then Sir Brian, he quickly became popular and approachable with staff and students alike. The now famous 'beer and bangers' parties held by him and Lady Mary Flowers (1921-2016) were hosted in their flat at the Norman Shaw designed building at 170 Queens Gate. This gave many people the opportunity to meet both of them and in particular to gain access to one of the most wonderful buildings owned by Imperial College. Five years after he became Rector, I shot a video with the student TV service STOIC, this was the first time a video had been shot in 170 and in particular up in the Rector's flat (a photo taken during this event is at the bottom of this entry with me in silhouette on the extreme left hand side).
Although you'll find a version of this first video posted on other Imperial pages I think it's important to repeat it here and set it in context. Also, this is the full version which includes an interview with Lady Flowers. At that time, what eventually became the 'family room', was then the music room with a grand piano occupying most of the space. I thought it might be fun to ask him to sit at the piano for the first part of the recording which was about him, his work and what the Rector of Imperial did on a day to day basis. As always he happily agreed and so that it what you'll see first. Because Mary Flowers was so much part of his life at Imperial, the second part was shot in the Sitting Room with them both talking about their "Imperial life".
As always, I'm including something that has only recently been re-discovered. On the 20th January 1984 STOIC recorded a studio interview with Brian Flowers who, by then was Lord Flowers of Queen's Gate. Unlike other interview with him, he not only talks about his work as Rector, but as the then Chairman of the CVCP (Committee of Vice-Chancellors and Principals). He also touches on obtaining his MA at Cambridge, being a visiting professor at MIT in the USA and his earlier job at the Atomic Energy Research Establishment. Also discussed was something that was new at that time, Imperial College spin-out companies.
Finally, the last video shot with both Brian and Mary Flowers. For the 2007 centenary I had proposed a series of videos with all living Rectors. And we all felt it appropriate that we should interview both Brian and Mary Flowers at what was, their home for 12 years, 170 Queen's Gate. In this extract, they discuss having a good working and social relationship with the student body and what was their most memorable event in the college calendar, the beer and bangers evenings. Here they are in the Council Room in 170 Queen's Gate.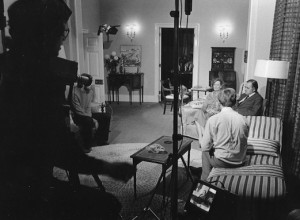 I'd been a regular visitor to 170 during their 12 years at Imperial. On one occasion Mary had persuaded me to provide and run some background music for her fund raising fashion show event for the day nursery, as mentioned in the last video. Nothing too ordinary was this event though, as we had Princess Anne attending…and without warning Mary suddenly insisted I was introduced, sadly no photo was taken. My last meeting with Brian Flowers was 2 years ago when Mary asked me if I could call in and see them, because she wanted to ask me a favour. They were, by now, living in north London and so I called in one lunchtime and had the most hospitable lunch with them sitting around the kitchen table and chatting about Imperial and all the latest news (and gossip too). And that takes me back to the kitchen at 170 and the many times Mary insisted on making me a cup of tea, if I were ever there, for some reason or another…..
Colin Grimshaw June 2010