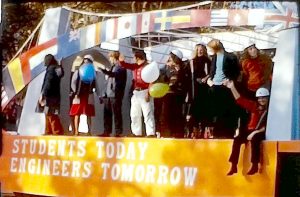 Because this years 2020 event is cancelled, let's go back nearly 50 years for an on-location report by STOIC on the 13 November 1971 Lord Mayor's Show. This was shot on 8mm film for inclusion in their weekly news programme, then called TOPIC. I made two very important discoveries when sorting out and collating the collection of either badly or completely unlabelled 8mm films. Firstly, this particular film was actually shot in colour, but only ever seen in black and white. Secondly, I also discovered an audiotape that had a listing inside. One segment was marked "Lord Mayor's Show – long film report", but with no date. Fortunately, the sound track commentary has a date mentioned, which led me to finding out that it was the same as the film. And, although the film was only marked as 'BBC; Carnival; 1973', the content was clearly the same thing, so the date was wrong. The clincher was the mention on the audio tape of that years theme title of "students today, engineers tomorrow".  Also, the BBC float was mentioned with 'space men' being located next to the C&G float, so that confirmed things. This could not have been any other year than 1971.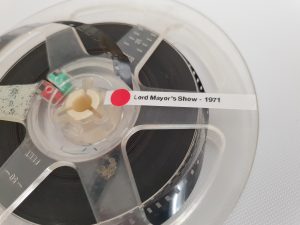 I've adjusted and corrected the film as best as possible. The audio was never intended to 'sync' with the actual film images, but rather to complement it with real 'on-location' sounds and a report with interviews. But to make this work I have had to second-guess the film speed. It could have been shot at either 16fps or 18fps, the reel doesn't say. Also, when the film was projected did it run at the correct speed? Therefore, I've had to adjust the digitised film speed to attempt to match the audio duration. The person you'll hear commentating is former STOIC Chairman Tim Dye. Were you a student on the C&G float back then and are you now retired?
I've also found other sound recordings, suggesting that they are linked to more 8mm film reports. I just need to do some more research and try to identify the films, that's if I do indeed have them of course. But for now, let's go back 50 years for the sights and sounds of the Lord Mayor's Show 1971.
I've had a great comment from Paul Jowitt about this post and video (incidentally I think he meant the 1971 show):
Enjoyed the 1970 Lord Mayor's Show video!
I was C&GU President at time and was the one standing up in the back of Bo.
Happy days!
Yours
Paul
Colin Grimshaw November 2020