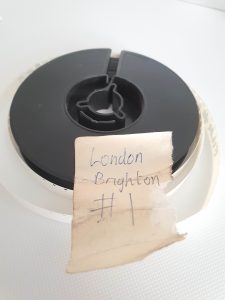 Today I have what was another mystery film from the STOIC archives. In digitising the 8mm films that were used in their earlier programmes I found two reels of Super8 colour film marked London (to) Brighton. No date or further details were on the reels. It was a mystery as to why this was shot on film because clues lead me to believe it was perhaps around 1978 or so. By then, STOIC had their own Sony portable videorecorder for location work. I looked for clues in the actual footage but couldn't spot anything that might give me a date. Until…..in one very small segment you will see Bo (Boanerges) has broken down outside of a cinema. This was in Streatham in South London. I could just make out, by zooming into one frame, a film title on the outside hoarding on the cinema. I looked it up on Google and it was dated as 1977. So, this was clearly the London to Brighton run on Sunday 6 November 1977.
I have no clues or idea as to why this was shot on 8mm colour film. The two reels are unedited and even look as if they were never used. If anything was indeed used it would have been in the weekly Lunchbreak programme. Was Rag week the same weekend as this event and therefore the videorecorder was not available because it was already in use?
We may never know the answer, but here anyway is the digital transfer of Bo, going from London to Brighton in 1977. Oh, and that's Sir Hugh Ford sitting on the back seat in the middle.
Colin Grimshaw November 2020