In 1925 this would have been considered hilarious I can only assume? But at least we do have this amazing British Pathe News film of some of our students from a time long ago and this now predates our own 1928 Sports Day film. The main titles are saying that the students had their 'own' Lord Mayor Show, so this would have been in November of that year. But why did they do this and why did Pathe News feel it was worthy enough to actually film it? This I suspect we may never know, although it's possible someone somewhere might be able to tell us or work it out (there's a possible clue later). The car, in one shot, has C&G painted on the front, although this is not that clear to see. It appears that this is the first version of Bo (Boanerges) which was a 1908 Rover purchased in 1920. It was replaced by the current car in 1933 (I have noticed that there are some variations on these various dates, depending on what you read). According to Hannah Gay's book, in the previous year to this film (1924), C&G students had parked this car outside Number 10 Downing Street with an effigy of the then Prime Minister in it. So could THIS be why Pathe shot the film, because of the previous year's prank and in the hope they might do something silly again to be captured on film?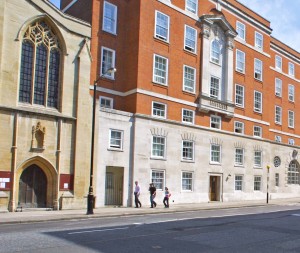 Having looked, many times, at both films, I have managed to work out where it was shot. The sequences in the car seem to be just outside of Holy Trinity Church in Prince Consort Road. The modern photo gives a clue to the location in front of the door at the extreme right hand end of the church building (in this photo that's on the left where it joins Beit please note). One shot shows the students pulling the car with a rope along Prince Consort Road, with faintly in the background the Royal College of Music and RSM behind that too. To the extreme right is where Aeronautics is now located and to the left would be Beit and then the Albert Hall.
There are two films in the Pathe News archive. The first is the edited and also titled version, while the other is listed as out-takes (unused material).
Colin Grimshaw May 2014