The second and final IC Newsreel was recorded on 2 March 1970. It was shown, like the first programme, at lunchtime the following day in the Junior Common Room in College Block (Sherfield). This final programme was a bit different and had a scoop too. Prior to the main recording, the Yugoslavian Prime Minister was visiting Imperial College and we were able to get the departure of him, his Police escort and his entourage.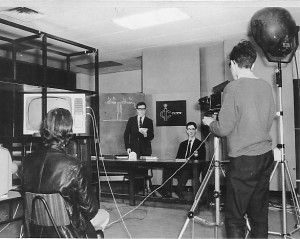 Andy Finney and Vivienne Taylor stood outside the mechanical engineering building to cover the event, even though this was not originally their intention for being there. Andy was on a very long-range radio microphone and we used the longest lens possible on the camera, which (along with a second camera) was located on the third floor of the electrical engineering building. Because we had no way of inserting the item into the actual forthcoming news programme, Andy had to pre-record the item as it was happening, and we ran the item before the main program started. Not the conventional way to make a news program, but at least it was new and it was unique for that time. The news item by Andy is then followed by what was called a 'crash' edit (stop recording then restart again) so there are a few wobbles on the screen before the main programme starts.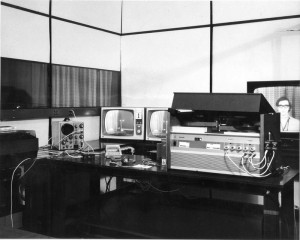 Included in the programme were interviews with the three main candidates for the election of IC Union President. The first ever recording of this type.  Judith Walker won the election and became the first female in the role. She talks to Vivienne Taylor, also seen in IC Newsreel Number 1.
Just as we had ended the main recording and faded to black, the current Union President Piers Corbyn asked to be able to say a few words. So, following yet another crash edit, we faded back up and sort-of started again. The reason for these types of stops and start edits was because we only had one Ampex Videorecorder and that could not actually edit anyway.
Sadly no photos were taken at the time of these two news programme recordings, only the videotape survives, which is rare. The upper photo is of the TV studio in the late 1960's and the lower, is just before the Philips Videorecorder, seen in the photo, was replaced by the Ampex, which was used to record the two IC Newsreels. The opening coverage of the Yugoslavian Prime Minister's visit also gives the original view across Dolby Court, all the way from Electrical Engineering to Mechanical Engineering, a view now lost forever with the creation of the Faculty Building.
IC Newsreel paved the way for STOIC's; TOPIC, Lunchbreak and then News-Break.
Colin Grimshaw March 2021